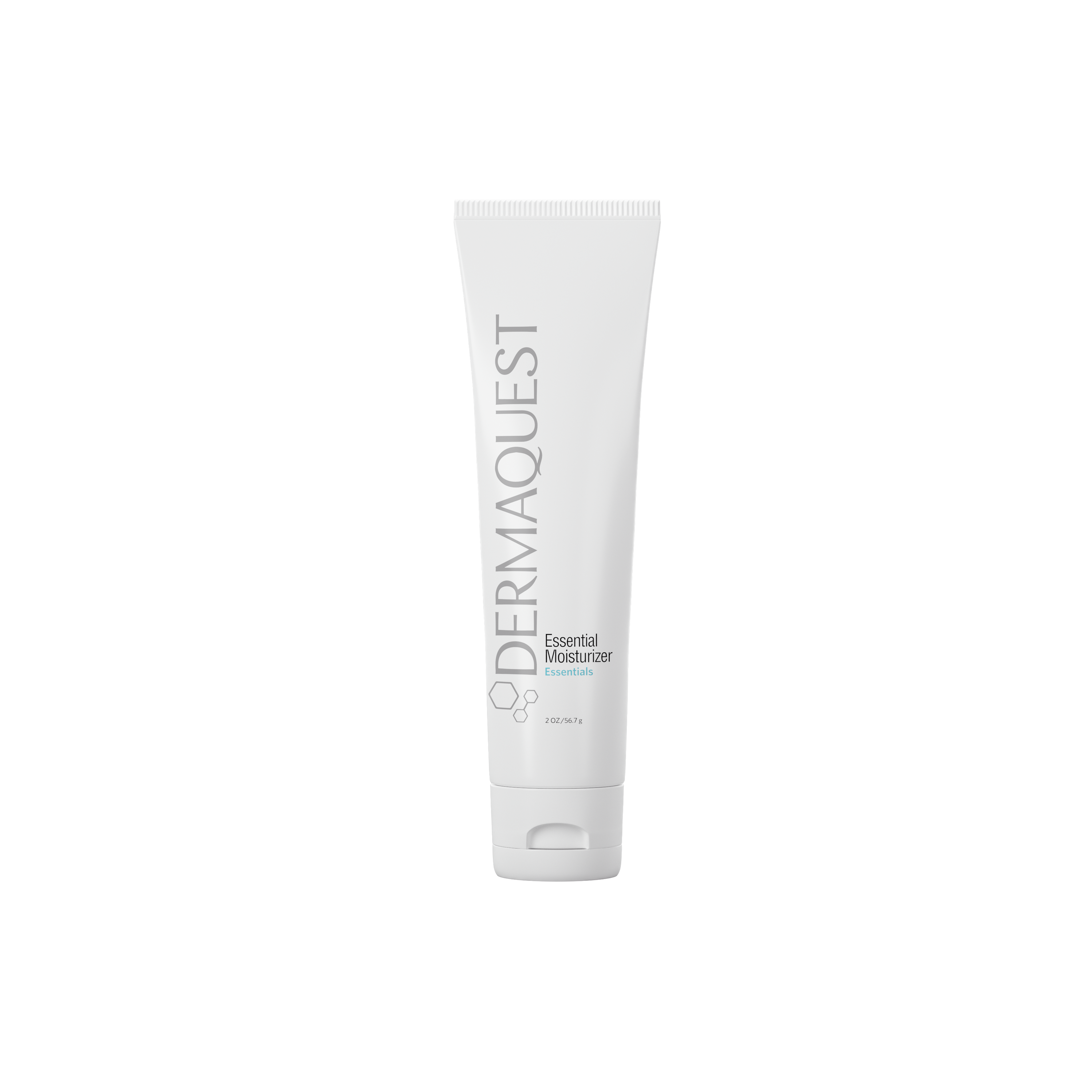 What it is
Directions
Ingredients
Essential Moisturizer is perfect for those who want to keep their skin hydrated and refreshed, without feeling heavy or greasy.

Description
This lightweight formula absorbs quickly into the skin to provide long-lasting hydration, improve skin texture, and protect the skin from environmental damage with powerful antioxidants. Essential Moisturizer is suitable for all skin types, making it a must-have in your daily skincare routine.
Best For: Essential Moisturizer is best for normal to combination-oily and combination-dry skin types.
Complimentary products:
SheerZinc SPF 30
C Infusion TX Mask
C Infusion Eye Cream
Retexture Serum
Essential Daily Cleanser


Directions for Use
After cleansing, apply Essential Moisturizer to the skin. Allow to absorb and follow with SPF, if appropriate.


Ingredients

Ingredients: Water (Aqua), Hexyl Laurate, Glycerin, Butylene Glycol, Caprylic/Capric Triglyceride, Polysorbate 60, Stearic Acid, Stearyl Alcohol, Cetyl Ethylhexanoate, Sorbitan Stearate, Isopropyl Isostearate, Cetearyl Alcohol, Nylon-12, PPG-12/SMDI Copolymer, Aloe Barbadensis Leaf Juice, Sodium Hyaluronate, Squalane, Hydroxyapatite, Glyceryl Stearate, PEG-100 Stearate, Actinidia Chinensis (Kiwi) Fruit Extract, Dimethicone, Sodium PCA, Tocopheryl Linoleate/Oleate, Camellia Sinensis Leaf Extract, Imperata Cylindrica Root Extract, Linoleic Acid, Glycine Soja (Soybean) Sterols, Phospholipids, Plankton Extract, Lecithin, Micrococcus Lysate, Arabidopsis Thaliana Extract, Polysorbate 20, Ergothioneine, Centella Asiatica Extract, Darutoside, Palmitoyl Pentapeptide-4, Tocopheryl Acetate, Ethoxydiglycol, Retinyl Palmitate, Ubiquinone, Yeast Polysaccharides, Tocopherol, Ascorbyl Palmitate, Ascorbic Acid, Citric Acid, PEG-8, Sodium Polyacrylate, Carbomer, Tetrahexyldecyl Ascorbate, Rosa Damascena Flower Extract, Acrylates/C10-30 Alkyl Acrylate Crosspolymer, Caesalpinia Spinosa Fruit Pod Extract, Helianthus Annuus (Sunflower) Sprout Extract, Propylene Glycol, Potassium Sorbate, Sodium Benzoate, Phenoxyethanol, Caprylyl Glycol, Ethylhexylglycerin, Hexylene Glycol, 1,2-Hexanediol, Disodium EDTA, Xanthan Gum, Fragrance (Parfum), Linalool, Benzyl Salicylate, Benzyl Alcohol, Geraniol 
After cleansing, apply Essential Moisturizer to the skin. Allow to absorb and follow with SPF, if appropriate.
Ingredients: Water (Aqua), Hexyl Laurate, Glycerin, Butylene Glycol, Caprylic/Capric Triglyceride, Polysorbate 60, Stearic Acid, Stearyl Alcohol, Cetyl Ethylhexanoate, Sorbitan Stearate, Isopropyl Isostearate, Cetearyl Alcohol, Nylon-12, PPG-12/SMDI Copolymer, Aloe Barbadensis Leaf Juice, Sodium Hyaluronate, Squalane, Hydroxyapatite, Glyceryl Stearate, PEG-100 Stearate, Actinidia Chinensis (Kiwi) Fruit Extract, Dimethicone, Sodium PCA, Tocopheryl Linoleate/Oleate, Camellia Sinensis Leaf Extract, Imperata Cylindrica Root Extract, Linoleic Acid, Glycine Soja (Soybean) Sterols, Phospholipids, Plankton Extract, Lecithin, Micrococcus Lysate, Arabidopsis Thaliana Extract, Polysorbate 20, Ergothioneine, Centella Asiatica Extract, Darutoside, Palmitoyl Pentapeptide-4, Tocopheryl Acetate, Ethoxydiglycol, Retinyl Palmitate, Ubiquinone, Yeast Polysaccharides, Tocopherol, Ascorbyl Palmitate, Ascorbic Acid, Citric Acid, PEG-8, Sodium Polyacrylate, Carbomer, Tetrahexyldecyl Ascorbate, Rosa Damascena Flower Extract, Acrylates/C10-30 Alkyl Acrylate Crosspolymer, Caesalpinia Spinosa Fruit Pod Extract, Helianthus Annuus (Sunflower) Sprout Extract, Propylene Glycol, Potassium Sorbate, Sodium Benzoate, Phenoxyethanol, Caprylyl Glycol, Ethylhexylglycerin, Hexylene Glycol, 1,2-Hexanediol, Disodium EDTA, Xanthan Gum, Fragrance (Parfum), Linalool, Benzyl Salicylate, Benzyl Alcohol, Geraniol