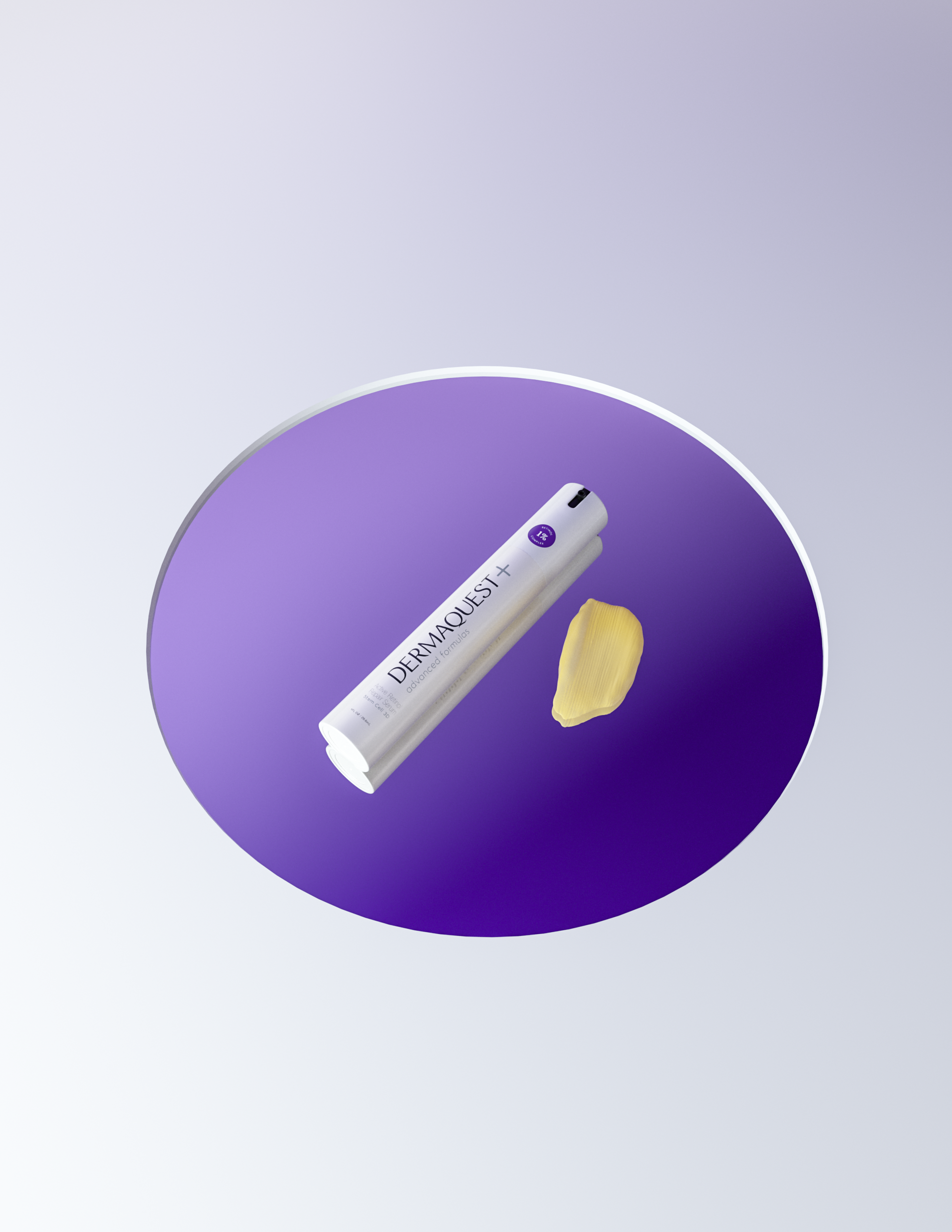 Stem Cell 3D Active Retinol Repair Serum - 1%
What it is
What it Does
How it Does it
Ingredients
What it is:
The Advanced Stem Cell 3D Active Retinol Repair Serum is a powerful anti-aging solution that incorporates plant stem cell technology and 4 potent retinoids to effectively reduce the appearance of fine lines, wrinkles, and other signs of aging. With a customizable potency, time-released delivery system, and nourishing plant stem cells, this serum delivers visible results while minimizing the common side effects of retinols, making it a safe and effective choice for all skin types. Say goodbye to aging and hello to radiant, youthful-looking skin with this innovative serum.
Available in three different levels (0.3%, 0.6%, and 1%), this first-of-its-kind formula is as gentle as it is powerful. 
Find the Retinol right for you with our Retinol Finder.
With consistent use, DermaQuest Stem Cell 3D Active Retinol Repair Serum significantly improves the appearance of lines, wrinkles, UV damage, epidermal thickness, and tone and texture.
A comprehensive, time-released blend of four distinct retinoids means unparalleled results and round-the-clock efficacy.
Retinol — This stabilized form of retinoid accelerates mitosis, allowing for optimal cell turnover and increased enzyme activity while normalizing and improving the skin's barrier function.
Retinyl Retinoate — This new-generation retinoid has a slower conversion rate, allowing for less irritation. It also encourages the production of hyaluron, a free-radical scavenger that hydrates and protects against UV damage.
Retinyl Linoleate — This stabilized form of Vitamin A stimulates collagen production, encouraging quicker cell turnover without over-drying the skin. It's also known to brighten pigmentation and promote even skin tone.
Retinaldehyde — This gentler, less irritating form of retinoid normalizes keratinization of the skin

A skin-nourishing blend of plant stem cells defend, restore, and reinforce overall skin health.
Papyrus Plant Stem Cells — Efficiently deliver active molecules that help to restore hydrolipidic balance to the skin.
Butterfly Bush Plant Stem Cells (Buddleja Davidii Meristem Cell Culture) — Soothe and provide potent antioxidant protection from oxidative stress and photo damage.

A game-changing, patented delivery system sends active ingredients straight to the source.
Hydroxysomes — Deliver active ingredients deep within the skin's surface to time-release its power over an extended period.
This retinol regimen makes it easy for your client to find the right starting point and, over time, level up to achieve powerful results.

0.3% is for those who are new to retinol or have highly sensitized skin
0.6% is for those who have some prior experience with retinol
1% is for experienced retinol users
Need help deciding? Take our Retinol Quiz.
Water (Aqua), Glycerin, Squalane, Caprylic/Capric Triglyceride, C12-15 Alkyl Benzoate, Aloe Barbadensis Leaf Juice, Cetearyl Olivate, Sorbitan Olivate, Cetearyl Alcohol, Butyrospermum Parkii Nut Extract, Dimethicone, Dicaprylyl Ether, Safflower Seed Oil Piperonyl Esters, Retinol, Retinal, Retinyl Retinoate, Retinyl Linoleate, Tranexamic Acid, Cetyl Palmitate, Sorbitan Palmitate, Sodium Hyaluronate Crosspolymer, Carbomer, Tocopherol, Cellulose, Bakuchiol, Sodium Hyaluronate, Hydroxyapatite, Olea Europaea (Olive) Leaf Extract, Camellia Sinensis Leaf Extract, Sodium Palmitoyl Proline, Nymphaea Alba Flower Extract, Laminaria Digitata Extract, Chlorella Vulgaris Extract, Saccharide Isomerate, Symphytum Officinale Leaf Extract, Buddleja Davidii Meristem Cell Culture, Cyperus Papyrus Leaf Cell Extract, Niacinamide, Dipotassium Glycyrrhizate, Disodium EDTA, Ethylhexyl Palmitate, Silica Dimethyl Silylate, Butylene Glycol, Pentylene Glycol, Phenoxyethanol, Caprylyl Glycol, Ethylhexylglycerin, Hexylene Glycol, Polyacrylamide, C13-14 Isoparaffin, Laureth 7, Dipropylene Glycol, Sea Water, Polysorbate 20, Xanthan Gum, BHT, BHA, Potassium Sorbate, Sodium Benzoate, Benzoic Acid, Sodium Hydroxide, Lavandula Angustifolia (Lavender) Oil, Linalool
Stem Cell 3D Active Retinol Repair Serum - 1%