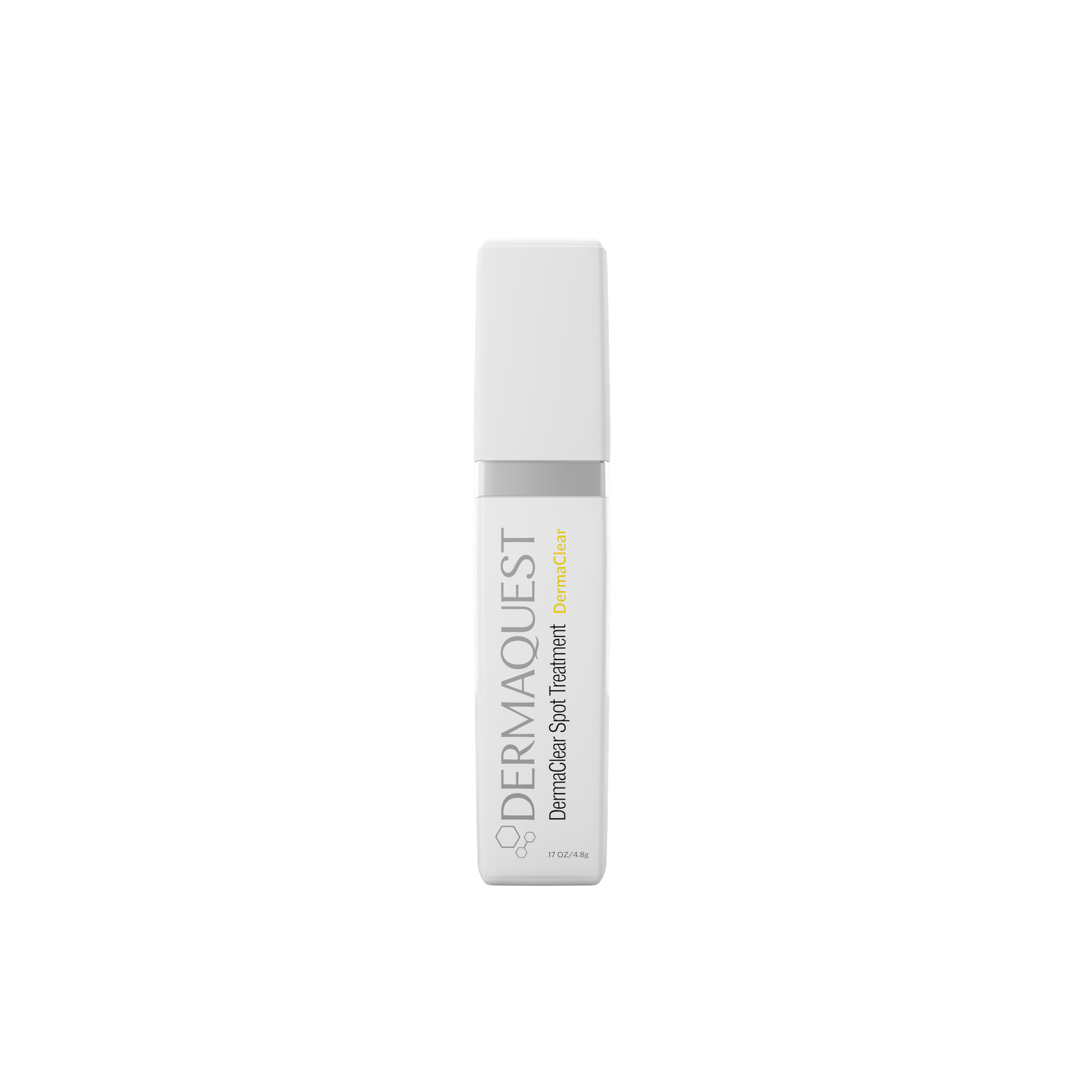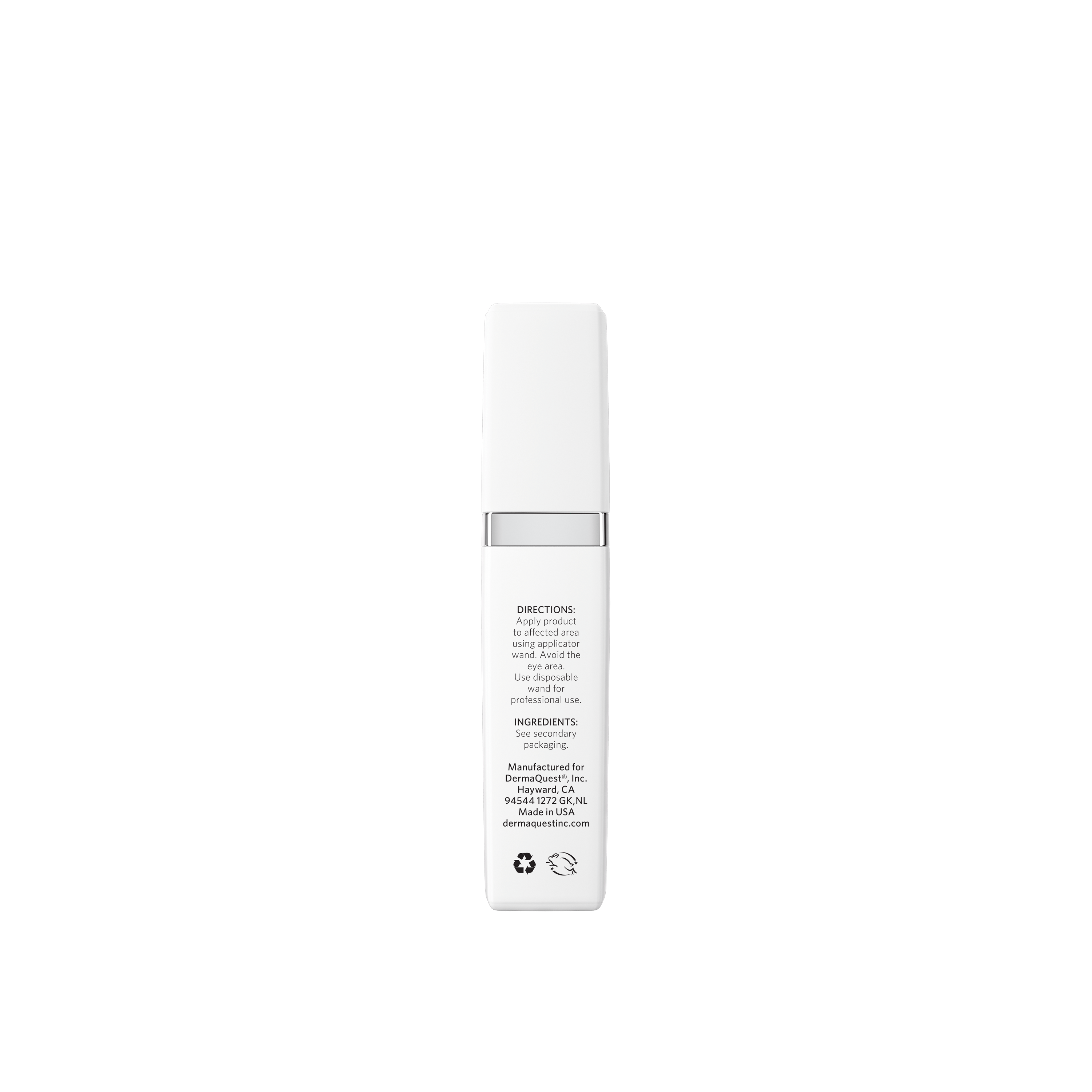 DermaClear Spot Treatment
What it is
Directions
Ingredients
DermaClear Spot Treatment is a must-have for those who want clear, healthy skin and want to nip acne in the bud.
Description
This fast-acting spot treatment penetrates deep into the pores and uses 10% benzoyl peroxide to eliminate acne-causing bacteria and unclog congested follicles. It is gentle enough for daily use and ideal for those with persistent, inflamed breakouts. 
Best For: DermaClear Spot Treatment is recommended for spot treatment of breakouts only.


Complimentary products:
DermaClear Mask
DermaClear Pads
Essential Moisturizer
DermaClear Serum
B5 Moisture Matte


Directions for Use
Apply product to the affected area using the applicator wand. Avoid the eye area.


Ingredients

Active Ingredient: Benzoyl Peroxide 
Other Ingredients: Water (Aqua), Propylene Glycol, Glycerin, Sorbitol, Dimethyl Sulfone. PEG-8/SMDI Copolymer, Phenoxyethanol, Caprylyl Glycol, Ethylhexylglycerin, Hexylene Glycol, Carbomer, Triethanolamine, Colloidal Silver, Salix Alba (Willow) Bark Extract, Malva Sylvestris (Mallow) Extract, Mentha Piperita (Peppermint) Leaf Extract, Primula Veris Extract, Alchemilla Vulgaris Extract, Veronica Officinalis Extract, Melissa Officinalis Leaf Extract, Achillea Millefolium Extract, Melia Azadirachta Leaf Extract, Butylene Glycol, PEG-60 Almond Glycerides, Nordihydroguaiaretic Acid, Oleanolic Acid, Melaleuca Alternifolia (Tea Tree) Leaf Oil, Leptospermum Scoparium Branch/Leaf Oil, Enantia Chlorantha Bark Extract, Maltodextrin, Syringa Vulgaris (Lilac) Leaf Cell, Culture Extract, Disodium EDTA 
Apply product to the affected area using the applicator wand. Avoid the eye area.
Active Ingredient:
Benzoyl Peroxide

Other Ingredients:
Water (Aqua)
Propylene Glycol
Glycerin
Sorbitol
Dimethyl Sulfone
PEG-8/SMDI Copolymer
Phenoxyethanol
Caprylyl Glycol
Ethylhexylglycerin
Hexylene Glycol
Carbomer
Triethanolamine
Colloidal
Silver
Salix Alba (Willow) Bark Extract
Malva Sylvestris (Mallow) Extract
Mentha Piperita (Peppermint) Leaf Extract
Primula Veris Extract
Alchemilla Vulgaris Extract
Veronica Officinalis Extract
Melissa Officinalis Leaf Extract
Achillea Millefolium Extract
Melia Azadirachta Leaf Extract
Butylene Glycol
PEG-60 Almond Glycerides
Nordihydroguaiaretic Acid
Oleanolic Acid
Melaleuca Alternifolia (Tea Tree) Leaf Oil
Leptospermum Scoparium Branch/Leaf Oil
Enantia Chlorantha Bark Extract
Maltodextrin
Syringa Vulgaris (Lilac)
Leaf Cell Culture Extract
Disodium EDTA
DermaClear Spot Treatment